Louisville Chapter of the National Pastoral Musicians, Sept 2017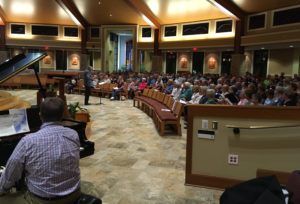 The Louisville Chapter of the National Pastoral Musicians (NPM) had a truly memorable and successful event with our Michael Kemp Choral Booster Shot on September 27, 2017. Success is defined as well attended, and from the number of grateful and supportive comments received. We had over 238 singers attend from 24 different parishes across the Archdiocese of Louisville, with more positive comments than I would have dreamed possible. Mr Kemp delicately pointed out that choirs are made up largely of aging voices, then gave us all pointers on how to improve our sound. Plus – he is just delightful and so entertaining! The time flew by, and the recordings of our songs that night are truly beautiful. Additionally, he is flexible – working with us on songs we requested for our next event, our St Cecilia Sing, helping us build upon this success and keep the momentum going for our chapter. He is a gifted conductor and musician, a true gem – with a caring heart. I highly recommend an event like this for your chapter.
Martha Richardson, Director – Louisville Chapter of the National Pastoral Musicians
Choral Workshop Review, Nov 2016
Last weekend Michael Kemp worked with our older singers at a workshop in Buffalo, New York. With a background of working with volunteer musicians in church and school, Mr Kemp had a way of bringing out the best singing in the impromtu chorus. The conductor/teacher took vocal concepts that some graduate
students have yet to learn, and was able to convey these concepts and develop these skills in terms that a lay person can understand. Kemp's research in the problems of mature singers has resulted in an approach that is respectful and hopeful for our mature singers, so that they may express themselves as singers for years to come. Michael Kemp has extended the legacy of his musician parents, Helen and John, into the 21st century. We have all benefited by his books and lectures and performances that bring the best out of our seniors.
Bill Fay, Director, Church Musicians Guild, Buffalo, New York
"Gil's Golden Voices"
My heart is filled with joy as I write to you to share the graces, blessings, and favors coming to our Gil's Golden Voices! It all began I watched Michael in the Chorister's Guild webinar where he taught about rejuvenating and working with the senior voice. He said that if anyone wanted help he would be willing to give it! He gave his phone number and so I called. I've read his books and followed his advice in several technical challenge situations. He introduced me to Kay Stretton; I spoke with Kay on a day in February when Pennsylvania was in the midst of a snow blizzard. She gave me nuts and bolts tools for managing her choir of 80 choristers. In addition, she sent me several mailings of octavos that had worked for her choir. It was exciting to see this treasure of music. I was concerned about the need for an excellent accompanist; Kay told me to look for a retired music director who might like to keep up his/her skills without a highly demanding administrative responsibility. Then came the miracle! My former choir director (will be 80 this August) responded to my request after a few weeks of her personal prayer. She said that she definitely felt the Spirit calling her. It is going to work well for us--two piano accompanists (Gloria for hymns and Betty for octavos). The choir is currently 18 in number (including seven men), and word is spreading about how much fun we are having!
Betty Mossey
Choral Workshop, Allentown PA area
Michael Kemp presented a choral workshop for the Lehigh Valley AGO chapter on April 24, 2016. Participating were both choir directors and church choir members. At an AGO board meeting shortly after the workshop, board members expressed their utmost appreciation and excitement over how much the singing improved in such a short time. We all agreed that the amassed group presented many vocal challenges, but both directors and choir members learned significant skill and artistic adjustments from Michael's presentation and rehearsals, and the sound of the singing made remarkable improvements based on how Michael approached many basic issues from multiple angles. Many of us have tried out these ideas in our own rehearsals since the workshop, especially in regards to posture and preparatory breath, each creating moments which seemed to relax and build up the choir. More than anything, we all recognize that singers of any age, level, and ability were able to gain tremendous experience and positive ideas, for themselves and as ensemble singers. We look forward to any opportunities for our choirs or for the Chapter to work with Michael Kemp again in the future!
Andrew Long, Director of Music Ministries
Trinity Lutheran Church, Perkasie, PA 18944
Lehigh Valley Chapter, AGO, Sub-Dean
Choral Challenge Workshops
...The textbook was phenomenal, as was the expertise of the instructor. The information I gained from the class will immediately be put to use in my classroom.
...The week-long workshop was exactly what I needed as a community and church choir director. It offered practical ideas that were fresh, inspired and not overly complicated. Michael Kemp's lifetime of choral experiences shared in his book and this course will not only impact me as a choir director, but also give more focus to everything in my life.
...I am so grateful to have had the opportunity to be a part of this workshop! It has given me a wealth of information and practical tips/ideas that I can immediately begin to use with my high school choir. Michael Kemp's Choral Challenge makes it so easy to find ideas/exercises to address vocal problems. I will be consulting it regularly! Thank you, Michael, for such a thoughtful workshop, in that you gave us so many specific analogies, examples and tools to readily apply. I feel much more empowered and energized to embrace the new school year with a full 'bag of tricks.'
...Rejuvenated...Refreshed...Recharged - are three words that describe exactly what this week of Michael Kemp's Choral Challenge course has done for me. His extremely helpful textbook, his well-paced lectures and choral activities, and his genuine personal teaching style and expertise were exactly what I needed after completing my 30th year in the field of music education.
...The Choral Challenge workshop with Michael Kemp is an incredible gold mine of information and wisdom that is going to be so useful to me with my choir. I can't wait to go back and start the new season with all this wonderful knowledge.
...The adjective in the book's subtitle is spot-on – this book is 'practical.' Michael Kemp's combination of enthusiasm and expertise made his workshop a joy; this is real-life, relevant stuff from his many years in the trenches of rehearsals. I've come away refreshed and inspired.
Reactions to "Booster Shot" workshops
I recently had Michael Kemp work with my choir, the Celestia Performing Arts Group. He gave us one of his "choir booster shots." It was very helpful and informative. He worked with us on many things such as vocal technique, tone placement, posture, and breathing. Everyone that I spoke with afterwards was very excited and motivated. I received comments like "This was just what we needed!" and "It was very informative and a lot of fun." I could not have asked for a better experience for my choir. We are definitely looking forward to having Michael back next semester for another "choir booster".
Alex Ramirez, Director, Celestia Performing Arts Group
Thank you for an excellent Booster Shot presentation to our choir. All too often older more 'mature' singers will blame poor vocal technique and vocal production on the aging process. Your workshop reminded them in an informative, lively, and entertaining way that one can and should stay "physically fit" vocally. Many of the vocalists said that as a result your presentation they felt vocally rejuvenated and encouraged to get back to maintaining and/or recovering proper vocal technique. This was and is a much needed message. Thanks so much.
Bob Eaton, Artistic Director, Assabet Valley Mastersingers and Assabet Valley Chambersingers
Choral Workshops & Festivals
It is difficult to express how excited everyone was with the conference. I heard nothing but glowing remarks about your lectures, your attitudes, your enthusiasm, and the vigor and understanding with which you worked. Thank you for presenting one of the finest music conferences here ever.
Bingham Vick, Jr, Director of Choral Activities of Furman University, Greenville, SC
Everyone I talked to had such positive things to say about your workshop. Your energy level is fantastic, and your enthusiasm is contagious. That, plus your experience and knowledge, are great assets and make a workshop with you a very good experience. We all loved it!
Jocelyn Pritchard, Church Music Center, British Columbia (Alberta Choral Directors Association)