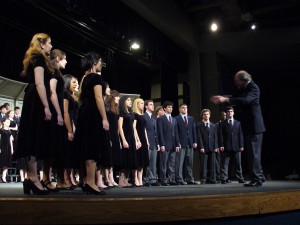 Michael has conducted over 350 masterworks of the standard choral/orchestral repertoire. Two Philadelphia premieres conducted by Michael include Vaughan Williams' Sancta Civitas and Karl Jenkins' Gloria, as well as the full orchestral version of Annelies by James Whitbourn.
MUSIC WORKS CONDUCTED BY MICHAEL KEMP
A B C D E F G H I J K L M N O P Q R S T U V W X Y Z
-A-
Lawrence Ashmore
The Four Seasons for Clarinet and Orchestra
top
-B-
Johann Sebastian Bach
B Minor Mass
Brandenburg Concerto No. 4
Cantata No. 79
Cantata No. 95
Christmas Oratorio
Concerto for Two Violins in D Minor
Jesu Meine Freude
Magnificat
Passion According to St. John
Henk Badings
Trois Chansons Bretonnes
Samuel Barber
Adagio for Strings
Concerto for Violin and Orchestra
Bela Bartok
Romanian Folk Dances
Ludwig van Beethoven
Calm Sea and Prosperous Voyage, Op.112
Creatures of Prometheus, Op.43 (excerpts from the complete score)
Mass in C
Overture to "King Stephen"
Piano Concerto No. 4 in G Major
Piano Concerto No. 5 in Eb Major, "Emperor"
Symphony No. 1 in C Major
Symphony No. 2 in D Major
Symphony No. 3 in Eb Major, "Eroica"
Symphony No. 5 in C Minor
Symphony No. 6 in F Major
Symphony No. 7 in A Major
Symphony No. 8 in F Major
Leonard Bernstein
Chichester Psalms
Georges Bizet
Jeux d'Enfants (Children's Games), Op. 22
L'Arlesienne Suite No. 1
L'Arlesienne Suite No. 2
Carmen: Entrance of the Toreadors
Johannes Brahms
Abend Lieder
Academic Festival Overture
Alto Rhapsody
Fest Und Gedenk Sprache
German Requiem
Hungarian Dance No. 5
Liebeslieder Waltzer
Nänie
Neue Liebeslieder
Serenade No. 1 in D Major
Serenade No. 2, Op. 16
Symphony No. 1 in C Minor
Symphony No. 4 in E Minor
Tragische Ouverture
Variations on a Theme by Haydn
Violin Concerto in D Major
Zigeunerlieder (Gypsy Songs)
Benjamin Britten
Rejoice in the Lamb
Young Person's Guide to the Orchestra
Dietrich Buxtehude
Command Thine Angel That He Come
In Dulci Jubilo
top
-C-
Emmanuel Chabrier
Suite Pastorale
Cecile Chaminade
Concertino for Flute and Orchestra
Ernest Chausson
Poem for Violin and Orchestra
Luigi Cherubini
Requiem in C Minor
Aaron Copland
Billy the Kid
Canticle of Freedom
El Salon Mexico
Fanfare for the Common Man
Quiet City
Lincoln Portrait
Suite from Appalachian Spring (full orchestration and 13 instruments/original ballet orchestration)
Symphony No. 1 for Organ and Orchestra
The Tender Land (excerpts)
Henry Cowell
Slow Jig
top
-D-
David Diamond
Music for Shakespeare's Romeo & Juliet
Claude Debussy
Nocturnes
Trois Chansons
Frederick Delius
The Walk to the Paradise Garden
Two Aquarelles
Norman Dello Joio
Jubilant Song
Daniel Dorff
Blast Off!
Goldilocks and the Three Bears
Paul Dukas
The Sorcerer's Apprentice
Maurice Durufle
Requiem Mass
Antonin Dvorak
Carnival Overture
Legends
Serenade for Strings
Serenade for Winds in D Minor
Slavonic Dance No. 1
Slavonic Dance No. 3
Stabat Mater
Symphony No. 7 in D Minor
Symphony No. 8 in G Major
top
-E-
Edward Elgar
Introduction and Allegro, Op. 47
Serenade for Strings
Enigma Variations
top
-F-
Gabriel Faure
Masque et Bergamasque
Pavane
Requiem Mass
Gerald Finzi
In Terra Pax
Magnificat
top
-G-
George Gershwin
Rhapsody in Blue
Gilbert & Sullivan
Selections from: "The Gondoliers", "H.M.S. Pinafore", "The Mikado", and "The Pirates of Penzance"
Reinhold Gliere
Russian Sailor's Dance (from The Red Poppy)
Morton Gould
American Salute
Charles-Francois Gounod
Ballet Music from Faust
Petite Symphonie for Winds
Symphony No. 1
Edvard Greig
Peer Gynt Suite No. 1
top
-H-
George Frederick Handel
Concerto Grosso, Op. 6, No. 1
Messiah
Organ Concerto, No. 10, Op. 7, No. 7
Water Music
Howard Hanson
Cherubic Hymn
Roy Harris
The Folksong Symphony, No. 4
Franz Joseph Haydn
Creation
Harmoniemesse
Heilig Messe
Missa Brevis St. Joannis de Deo
The Seasons (excerpts)
Symphony No. 97
Symphony No. 103
Gustav Holst
Christmas Day
The Planets, "Mars"
St. Paul's Suite
Victor Hely-Hutchinson
Carol Symphony
Arthur Honegger
Christmas Cantata (Une cantate de Noël)
King David
Pastoral d'été, H.31
top
-I-
Charles Ives
Variations on "America"
top
-J-
Gordon Jacob
Old Wine in New Bottles
Karl Jenkins
Gloria (Philadelphia Premiere, May 14, 2011)
Joseph Jongen
Symphonie Concertante
top
-K-
Robert Kapilow
Green Eggs and Ham
Zoltan Kodaly
Te Deum
top
-L-
Anatol Liadov
The Music Box
top
-M-
Pietro Mascagni
Cavalleria Rusticana: Easter Hymn
Jules Massenet
Thaïs: Meditation
Felix Elijah Mendelssohn
Die Erste Walpurgisnacht, Op.60 (The First Walpurgis Night)
"The Hebrides" Overture
Overture to "The Fair Melusine"
String Symphony No.1 in C Major
String Symphony No.5 in Bb Major
String Symphony No. 6 in Eb Major
Symphony No. 1 in C Minor, Op. 11
Symphony No. 2 in Bb Major, "Hymn of Praise"
Symphony No. 3 in A Minor, "Scottish"
Symphony No. 4 in A Major, "Italian"
Symphony No. 5 in D Major, "Reformation"
Vom Himmel hoch ("From Heaven on High")
Gian-Carlo Menotti
Amahl and the Night Visitors
Xavier Montsalvatge
Canciones Negras
Wolfgang Amadeus Mozart
Divertimento in C Major, K. 157
Eine Kleine Nachtmusik
Exsultate Jubilate
Overture from "The Impressario" (Der Schauspieldirektor)
The Magic Flute (excerpts)
Marriage of Figaro (excerpts)
Missa Brevis, Organ Solo Mass
Overture from Cosi fan Tutte
Piano Concerto No. 15 in Bb Major
Requiem
Solemnes Vesperae
Symphony No. 39 in Eb Major
Symphony No. 40 in G Minor
Symphony No. 41 in C Major, "Jupiter"
Violin Concerto No. 5, K. 219
Modest Mussorgsky
Night on Bald Mountain
top
-N-
Carl Nielsen
Helios Overture, Op.17
Ronald Nelson
Christmas Story
top
-O-
-P-
Johann Pachelbel
Canon and Gigue
Robert Page
Suite in Blue
Tin Pan Alley Suite
Alice Parker
Songstream
Lloyd Pfautsch
Day For Dancing
Daniel Pinkham
Christmas Cantata
Francis Poulenc
Gloria
Organ Concerto
Sergei Prokofiev
Lieutenant Kijé, Op. 60
Peter and the Wolf
Symphony No. 1 in D Major
Giacomo Puccini
Madama Butterfly: Humming Chorus
Missa di Gloria
Preludio Sinfonico
Turandot: Final Chorus
top
-Q-
-R-
Sergei Rachmaninov
Symphony No. 2 in E Minor, "The Rock"
Vocalise
Maurice Ravel
Mother Goose Suite
Pavanne pour une infante défunte
Stephen Reineke
Casey at the Bat
Ottorino Respighi
The Birds
Ancient Airs and Dances, Suite No. 1
Ancient Airs and Dances, Suite No. 2
Ancient Airs and Dances, Suite No. 3
Three Botticelli Pictures
Gioachino Rossini
Overture to Il barbiere di Siviglia (The Barber of Seville)
Overture to La Cenerentola (Cinderella)
Overture to La gazza ladra (The Thieving Magpie)
Overture to L'inganno felice (The Happy Deception)
Overture to L'italiana in Algeri (The Italian Girl in Algiers)
John Rutter
Gloria
Requiem
top
-S-
Camille Saint-Saens
Concerto for Violin No. 3 in B Minor
Danse Macabre
Organ Symphony No. 3 in C Minor
Francois Schubert
The Bee
Franz Schubert
Mass in G
Mass No. 6 in Eb Major
Symphony No. 3
Symphony No. 5 in Bb, D. 485
William Schuman
New England Triptych, Chester
Heinrich Schutz
Seven Last Words of Christ on the Cross
Tibor Serly
Transylvanian Rhapsody
Robert Shaw & Robert Russell Bennett
Many Moods of Christmas
Rodon Shchedrin
Carmen Suite (after Bizet)
Dmitri Shostakovich
Festive Overture
Jean Sibelius
Finlandia
Karelia Suite, Op.11
Pelleas and Melisande, Op. 46
Carl Stamitz
Concerto for Clarinet and Bassoon
William Grant Still
Afro-American Symphony
top
-T-
Peter Ilyich Tchaikovsky
Eugene Onegin: Entr'acte Act II, Scene I, Waltz
The Nutcracker Suite
Orchestral Suite No. 4 in G, "Mozartiana"
Georg Philipp Telemann
Viola Concerto in G Major
Randall Thompson
Frostiana (orchestral version)
Peaceable Kingdom
Testament of Freedom
Virgil Thomson
The Plow That Broke the Plains
Frank Tirro
American Jazz Mass
top
-U-
-V-
Giuseppe Verdi
Aida: Triumphal March
La Traviata: Act 1, Prelude
Requiem
Te Deum
Henri Vieuxtemps
Violin Concerto No. 5 in A Minor
Antonio Vivaldi
Concerto for Four Cellos
Concerto for Two Cellos in G Minor
Concerto for Two Violins, Cello and Strings in D Minor
Concerto for Two Trumpets in C Major, R.V. 537
Flute Concerto in D Major, "The Goldfinch"
Gloria
Harp Concerto in C Major
top
-W-
Richard Wagner
Lohengrin: Introduction to Act III
Meistersinger: Act III, Introduction
Siegfried Idyll
Tannhäuser: Fest March
William Walton
Henry V (excerpts)
Peter Warlock
Capriol Suite
Carl Maria von Weber
Der Freischutz
David Westfall
Ode to the American Spirit
James Whitbourn
Annelies
John Williams
Schindler's List
Star Wars (orchestral suite)
Ralph Vaughan Williams
Fantasia on a Theme by Thomas Tallis
English Folksong Suite
Five Mystical Songs
Flourish for a Coronation
Folk Songs of the Four Seasons/Winter (women's chorus and orchestra)
In Windsor Forest
Sancta Civitas (Philadelphia Premiere)
Serenade to Music (full orchestral version and version for string orchestra and piano)
Song of Thanksgiving
Two Hymn-Tune Preludes
top
-X-
-Y-
-Z-