INSTRUCTIONAL PUBLICATIONS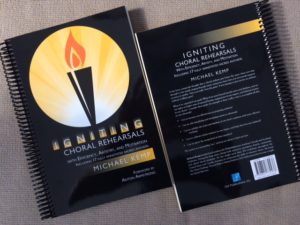 Let an internationally respected choral clinician take you beyond the analytical study of anthems. Using his innovative concept of Unique Musical Focuses, Michael Kemp lays out a sequential set of pedagogical steps in teaching a score and incorporating stylistic, historical, and analytical information to shape the work in terms of vocal tone and rhythmic articulation. His "Unique Motivational Flashes" are creative templates for analyzing scores that provide techniques to pace and engage singers fully in the rehearsal process. Kemp has included 17 carefully annotated choral scores selected from GIA's best-selling works, including works by Praetorius, Handel, Luboff, and Alonso. Kemp gives a vast toolbox with which to solve almost every problem that directors will encounter with their choirs, and help their singers grow in vocal skill and musical understanding. Available from GIA - Item #G-9379.
Rejuvenating Senior Voices: Enhancing the Sound and Confidence of Mature Choirs - Forward by Helen Kemp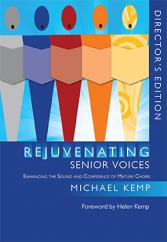 How can choirs maintain and improve their sound and performance skills when they have more mature members? Can older singers learn new techniques? Of course! Here's a much-needed, timely resource for directors of volunteer choirs. Instead of telling members they're "too old to sing," now you can teach them to have better singing posture, more reliable breath support, more accurate intonation, improved blend, greater expressivity…and a wonderful sound. With a wealth of information and exercises that will elevate the skill and sound of your senior members, Michael Kemp shows how all voices can continue to be valuable contributors to the success and enjoyment of the ensemble.
Director's Edition: Available from GIA (G-9025)
Singer's Edition: Available from GIA (G-9025S)
Included are 34 engaging choral warm-ups designed to improve your choir's sound and increase the singers' musicianship. Innovative Warm-Ups for the Volunteer Choir offers purposeful, creative exercises that are simple to learn and fun to sing. The unique two- to four-part vocalises also develop refinement in intonation and choral balance. By using these warm-ups in your rehearsals, your choir members will continually acquire techniques to improve their vocal ability and become more confident musicians. Two separate editions are available: one for choral directors and the other for their chorus members.
Buy a director's copy and as many singer editions as needed. Singer editions easily fit into standard music folders and are priced accordingly.
Director's Edition: Available from GIA (G-8696L)
Singer's Edition: Available from GIA (G-8696)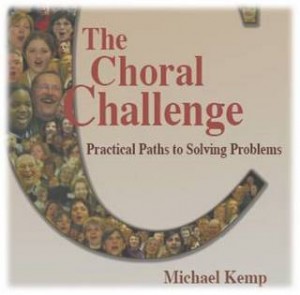 From common to not-so-common problems facing choral conductors of all experience levels (from "a" for agility to "y" for yawning), Michael Kemp brings a lifetime of experience living and working in the choral world to create a truly remarkable and practical book. Kemp starts with a myriad of quick-fix solutions to common "choral challenges" and then provides in-depth explanations for choir directors who need more. He follows with sections on planning and preparation (including 62 warm-up exercises), as well as an enlightening discussion on motivating and recruiting choir members. The result is a truly comprehensive handbook representing true best practices poured into a single incredibly useful and well-organized resource. For a complete book review of The Choral Challenge from the Choral Journal, click here.
WEBINARS
Purchase a DVD of Michael Kemp's webinar from fall 2015, The Aging Voice: Rejuvenating Senior Singers hosted by Choristers Guild. 60 minutes long. Available from Choristers Guild.
CHORAL PUBLICATIONS
This SATB choral piece is based on a canon by William Boyce (1711–1779). Separate parts are available for 2 octaves handbells and oboe accompaniment (G-8586 and G-8586INST).
Written by Helen Kemp and arranged by Michael Kemp. SATB with piano and oboe accompaniment. This arrangement and its text are eminently useful in programming, accessible to amateur choirs, and compelling to choirs and congregations.
Michael Kemp arranged this version of the popular Margaret Tucker anthem for SATB with keyboard and flute. It is accessible and inspirational for both youth and adult choirs, and unique in its message of caring for those in need.
Originally a children's anthem by Helen Kemp, Michael has arranged this touching Christmas selection for four part choir.  The image of candlelight and the touching melodies make this anthem a delightful experience for both singers and congregations.  Voicing: SATB and Treble Choir, keyboard and C instrument.
This two minute accessible and heartwarming anthem is designed to be sung at the conclusion of baptisms when the minister often carries the child or children out to the congregation.  Kemp authored the text which both welcomes the child into God's family and speaks to the congregation about the responsibility of being a positive part of the child's upbringing. Voicing: SATB, keyboard
PUBLISHED ARTICLES IN TRADE JOURNALS
THE CHORISTER: Volume 64, Issue 1; June/July 2012; pages 23-26; "The Positive Results of Staying Motivated"  (Click here for more information for the Choristers Guild)
GIA QUARTERLY: Volume 23, Number 4; December 2012-February 2013; pages 27-29, 51; "Reconsidering 'Too Old to Sing' "  (Click here for information on the GIA Quarterly journal)
WORSHIP ARTS: Volume 58, Number 1; September-October 2012; pages 4-8; "The Aging Church Choir: Can Senior Singing Skills be Revitalized?"  (Click here for the Worship Arts journal website)
CHORAL JOURNAL: Volume 50, Number 9; April 2010; pages 78-81; Book Review of the "The Choral Challenge: Practical Paths to Solving Problems"  (Click here for the ACDA journal website)