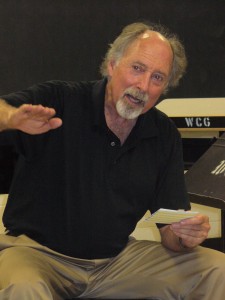 During the last 40 years, I have started each of my workshops by asking the simple question, "What are your concerns as a choir director?" 80% of us work largely with amateur choirs which are at least partially unauditioned, be they church, school, or community choirs. The result is that we face what I refer to as "real world" vocal and people issues that are rarely approached in typical choral workshops. My books, articles, lectures and this blog offer readers practical, accessible answers to these concerns that I have received from choral directors like you. There is always a step that can be taken to move a problem towards a solution. You don't have to just live with the same old problems week in and week out!
Feel free to join the crusade toward finding real people solutions by sending in your own questions to kempanswers@gmail.com (cut and paste this email address in the "To" area of your email server or use the Comment Area below). I will answer questions about both vocal/choral concerns and dealing with people problems in your choir. These questions will be the basis for my next book project, Real Solutions for Amateur Choirs.
I look forward to receiving your questions. Identifying yourself is not necessary.
Click here to view previous "Choir Talk" Questions and Answers!
Vocal/Choral Challenge Question #4:
"I don't have a great idea for how to place middle school students in voice parts without scaring away students who won't sing alone. Help!"
Unless middle school singers have decent singing skills already, placing them by listening strictly to their singing voices won't show you as much as long distance, casual speech. At the beginning of every season and in January, re-check voice section placement by using speech instead. Have the girls come forward into a large, open space and stand in a semi-circle in any order facing you. Then playfully have them say the words "Hi, how are you?" all together, as if they were actresses in a play, speaking with great energy to someone far away. Get them to have fun, trying to outdo each other's spirited acting level. Then, as if just for the fun of it, start on one edge of the row and have each quickly say it one at a time, right after each other, and keep it moving fast. Congratulate them on their acting and start down the row again, but this time with more time between each speaker.
This time around, after each speaker, lead the student by the arm to various locations in a new row right in front of the other one. What they don't know is that you are putting the heavier, lower speaking voices toward stage right, and the lighter, higher voices stage left, the middle voices in the center. Make a decision on each voice, placing it low to high, heavy to lyric. If necessar,y to ascertain this between any two, have one and then the other of the two in question speak their words again so you can compare and place them specifically.
At the end of this process, do the quick speaking right down the new row fast one more time, checking to see if you made any mistakes. Then purely by count, divide the row exactly in two and have the girls on stage right sing a bottom space F on "aw", and then the stage left girls sing the C above. If the sound does not balance, shift the middle two from one side to the other side and re-check the balance. When the two sides finally balance, that becomes your starting point. IT DOES NOT MATTER IF THAT IS NOT WHERE THEY WANT TO BE. The long distance speaking voice is the clearest indicator of pitch level comfort. Make a deal with them that all of them will try out this new possibility for at least two rehearsals. Then if they would like to be reevaluated individually, you will do that…but not until they have honestly experienced the new possibility. 90% of those whose voice part has changed will find that they have more comfort and courage with the new voice part and sense that they will make more of a contribution to the choir.
Regarding middle school boys, use the same process, but there is a difference. The vocal range limitations of the boys are much clearer to hear. One of the most significant concerns in teaching middle school boys is asking them to sing notes that are not physically possible or comfortable for them. There are two considerations.  What notes are possible for each voice, and also what notes are in their sweet spot vocal range, the notes they can sing with courage and a feeling of accomplishment? Put the boys where each can do that, even if you have to re-notate your music.
Placing older students and even adults into voice sections follows much this same approach. For more information on placing voices, see The Choral Challenge: Practical Paths to Solving Problems, GIA Publications, ISBN: 978-157999-7038, available also on Amazon.com.
People Skills Question #3:
"How do you help choir members be open to new concepts by a new director in anthems they already know and have worked on with past directors?"
Explain up front that all directors have concepts on which they focus, and now you as a new director would like to hear the good things you have been taught. It is like a luthier taking another builder's violin apart to see his workmanship. Ask the choir to sing through an anthem they learned under a previous director start to finish…and listen carefully. Afterwards, point out three things that you admire about what you heard, and compliment the choir on being well-trained. Urge them to always retain the best of what they learned from all directors. One exciting aspect about making music in a choir is the layering of knowledge on top of knowledge. It is this accumulation of musical ideas that leads to our best singing.  So suggest strongly to them that they never casually throw out old ideas, and encourage them to be open to new ideas that you may now be adding to the mix. You are yet another layer of knowledge among their musical and vocal ammunition as singers. Follow this by saying, "While retaining the musical attributes you already possess, let's start the piece again, this time adding this new idea…."
Do you have any questions about any of these topics?
Placing Singers into Voice Parts
Adjusting  Proportions Between Voice Partds
Breath Support and Posture
Head Tone and Placement
Tone Color
Expanding Vocal Range
Pitch Matching
Blending
Vibrato
Enunciation
Changing Voices
Senior Singers
Rhythmic Ensemble
Rehearsal Planning
Conducting
Warm-Ups
Repertoire
People Skills
Recruiting