PUBLISHED ARTICLES IN TRADE JOURNALS
THE CHORISTER: Volume 64, Issue 1; June/July 2012; pages 23-26; "The Positive Results of Staying Motivated"  (Click here for more information for the Choristers Guild)
GIA QUARTERLY: Volume 23, Number 4; December 2012-February 2013; pages 27-29, 51; "Reconsidering 'Too Old to Sing' "  (Click here for information on the GIA Quarterly journal)
WORSHIP ARTS: Volume 58, Number 1; September-October 2012; pages 4-8; "The Aging Church Choir: Can Senior Singing Skills be Revitalized?"  (Click here for the Worship Arts journal website)
CHORAL JOURNAL: Volume 50, Number 9; April 2010; pages 78-81; Book Review of the "The Choral Challenge: Practical Paths to Solving Problems"  (Click here for the ACDA journal website)
INSTRUCTIONAL PUBLICATIONS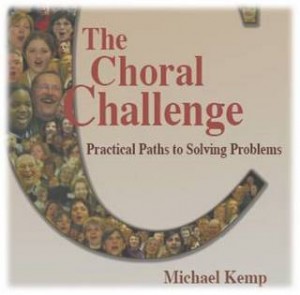 From common to not-so-common problems facing choral conductors of all experience levels (from "a" for agility to "y" for yawning), Michael Kemp brings a lifetime of experience living and working in the choral world to create a truly remarkable and practical book.
Kemp starts with a myriad of quick-fix solutions to common "choral challenges" and then provides in-depth explanations for choir directors who need more.
He follows with sections on planning and preparation (including 62 warm-up exercises), as well as an enlightening discussion on motivating and recruiting choir members.
The result is a truly comprehensive handbook representing true best practices poured into a single incredibly useful and well-organized resource. For a complete book review of The Choral Challenge from the Choral Journal, see the blog section of this website.
CHORAL PUBLICATIONS
Written by Helen Kemp and arranged by Michael Kemp. SATB with piano and oboe accompaniment. This arrangement and its text are eminently useful in programming, accessible to amateur choirs, and compelling to choirs and congregations.
Michael Kemp arranged this version of the popular Margaret Tucker anthem for SATB with keyboard and flute. It is accessible and inspirational for both youth and adult choirs, and unique in its message of caring for those in need.
Originally a children's anthem by Helen Kemp, Michael has arranged this touching Christmas selection for four part choir.  The image of candlelight and the touching melodies make this anthem a delightful experience for both singers and congregations.  Voicing: SATB and Treble Choir, keyboard and C instrument.
This two minute accessible and heartwarming anthem is designed to be sung at the conclusion of baptisms when the minister often carries the child or children out to the congregation.  Kemp authored the text which both welcomes the child into God's family and speaks to the congregation about the responsibility of being a positive part of the child's upbringing. Voicing: SATB, keyboard